Valsight Achieves Top Scores in BARC The Planning Survey 22
The voice of the financial planning software user community in the fiercely competitive market for financial planning products has emerged in its eighth edition: BARC The Planning Survey 22. Based on the world's largest and most comprehensive survey of financial planning software users, a total of 19 products (or product groups) were analyzed and evaluated by 1,325 software users. Participants provided detailed feedback on the selection and use of financial planning solutions. 33 criteria, including key performance indicators such as business benefits, project success, business value, recommendation, and customer satisfaction, were considered. Valsight was specifically examined in three comparison groups: Performance Management Specialists, Midsize/Departmental Implementations, and Operational Planning-Focused Products.
Once again, Valsight has been recognized as a leading financial planning solution by users. Across the three comparison groups, the software achieved 15 top rankings and 26 leading positions.


The highlights of the survey

98% of respondents recommend Valsight. An excellent result, which has improved even more compared to the previous year (97%).
98% of users rate Valsight's support as "excellent" or "good", a big lead compared to 74% for average planning tools.
98% customer satisfaction, based on "satisfied" and "somewhat satisfied" ratings
94% of users rate the "Ease of Use" aspect as very good or good.

Valsight Leads in Simulation, Driver-Based Planning and Forecasting
In addition to leading positions in all comparison groups for key performance indicators such as Project Success, Vendor Support, Self-Service, Cloud Planning Competitive Win Rate, and Competitiveness, Valsight has once again received top marks for its core applications: Forecasting, Simulation, and Driver-Based Planning.




Continuous Top Rating for Simulation, Driver-Based Planning and Forecasting
Particularly noteworthy is the consistently leading placement of Valsight over the years in the central core applications of simulation, driver-based planning and forecasting - a nice confirmation that Valsight sustainably supports finance and controlling teams in optimizing their central controlling processes and bringing them up to new, future-proof digital standards.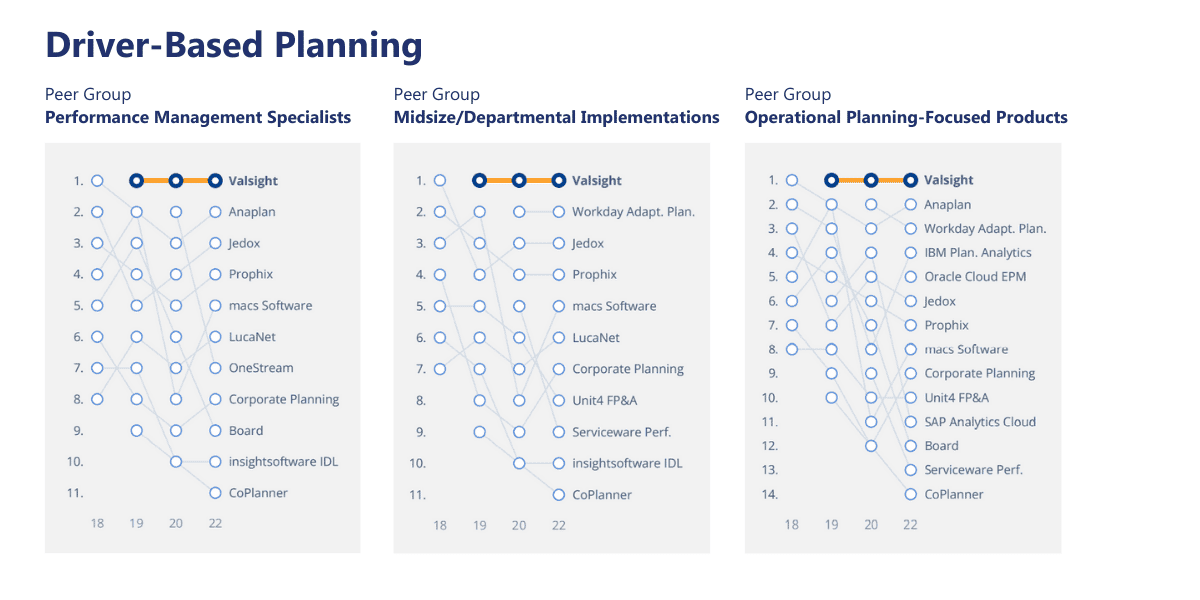 BARC The Planning Survey 22 provides evidence that users are also consistently satisfied with the performance of the software. Performance Satisfaction, as measured, indicates the frequency of complaints about the system's performance. In this regard, Valsight has demonstrated high levels of satisfaction among its users, reflecting the software's ability to meet their performance expectations effectively.


What Our Customers Say in BARC The Planning Survey 22
"Very positive - fast data processing even with large datasets, excellent support, extensive application possibilities, and quick learning process."

Line of business employee, Financial Services, >2,500 employees
"Excellent support from Valsight during implementation. Modeling functions are very comprehensive. The integration of modeling, planning, and visual representation in one tool is fantastic!"

Line of business employee, Services, >2,500 employees
"Scenario-capable, highly flexible, very user-friendly, easy to use, and great support from Valsight."

Line of business employee, Public sector and Education, >2,500 employees
"Easy handling for end-users, allowing a focus on content-related matters - Transparent representation of driver trees to better understand logical connections in planning and identify weaknesses - Quick presentation of scenarios to respond rapidly in discussions."

Line of business employee, Manufacturing, 100-2,500 employees
"User-friendliness for the end-user; Simplified driver trees and simulations can be managed without external or IT support; Increased transparency of planning results."

Line of business employee, Manufacturing, >2,500 employees



Click here for more information on the results for Valsight.